7:00 pm – 12:00am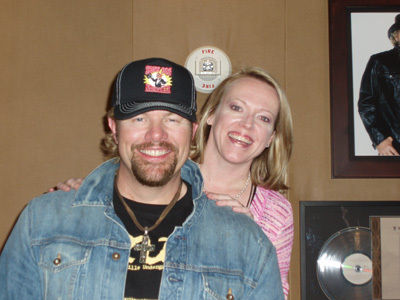 LIA WITH TOBY KEITH
BIRTHDAY
October 22nd
EMAIL:
lia@radiolia.com
FAVORITE ARTISTS
Gary Allan, Trace Adkins, Dierks Bentley
CELEBRITY LOOK-A-LIKE?
Paige Davis from Trading Spaces (one of my favorite shows).
FAVORITE MOVIES?
"So I Married an Axe Murderer" starring Mike Meyers…Hiliarious, I know every word of the dialogue!
FAVORITE TV SHOWS?
Trading Spaces, The Batchelor
IF YOU WERE NOT A DJ WHAT WOULD YOU BE?
As a kid I wanted to be a fighter pilot, an attorney and a poet. Now I wanna be a ROCK STAR!
WHAT'S YOUR MOST ANNOYING HABIT?
I must bring candles into the studio every night at 7:00..it's drives Jumpin' Jim crazy!
SPORTS TEAMS?
Seattle Seahawks and Dale Jr.
FAVORITE FOOD?
Grilled Cheese Sandwiches, Pickles, Diet Coke
WHERE IS YOUR DREAM VACATIONLAND?
How about a week or two hangin' with Kenny Chesney in the islands.
FAVORITE VERMONT HANGOUT?
Warren Falls on a hot day
IF YOU COULD BE ANYONE FOR A DAY WHO WOULD IT BE?
I'd like to be on the the Bachelorette, but only for one day. Meeting all those hot guys would be a blast.