WHEN SEVERE WINTER WEATHER STRIKES,
DEPEND ON FROGGY!!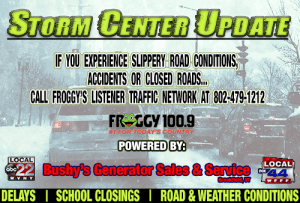 FROGGY 100.9 KEEPS YOU INFORMED WITH FRANK'S STORM CENTER UPDATE!
BROUGHT TO YOU BY BUSHY'S GENERATOR, SALES & SERVICE!

WITH THE POWER OF LOCAL 22 & LOCAL 44
CHIEF METEROLOGIST SEAN PARKER'S
SKY TRACKER FORCAST!
SCHOOL CLOSINGS, DELAYS,
ROAD & WEATHER CONDITIONS!
BRUCE & HOBBES UPDATE YOU TWICE AN HOUR
DURING THE FROGGY BREAKFAST CLUB!
ALSO THROUGHOUT THE DAY & NIGHT WHEN NEEDED
AND INSTANTLY ONLINE!
---
JOIN FROGGY'S LISTENER TRAFFIC NETWORK
IF YOU EXPERIENCE SLIPPERY CONDITIONS,
ACCIDENTS, OR CLOSED ROADS…
CALL US @ 479-1212
& WE'LL RELAY THE MESSAGE THROUGHOUT CENTRAL VERMONT!