Froggy 100.9's Country Critter of the Week, helping you find the perfect addition to your family!
Every Monday at 8:45 we'll spotlight a pet that needs a forever home. If you end up adopting the critter of the week, the folks at One Stop Country Pet Supply, on the Barre-Montpelier Road, will set you up with your first month's worth of pet food! One Stop Country Pet Supply is the place where pets come first!
Listen every week to Kim Ashley in the morning for the latest pet up for adoption.
This week's adoption spotlight…
Cheddar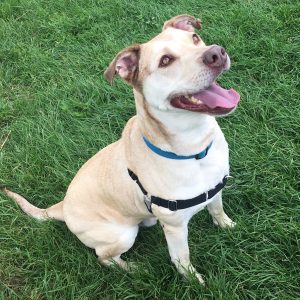 Sex: Male
Approximate Age: 5 Years
Looking for a big, friendly lug? This hand-some guy is the epitome of a happy, good-natured lab. He came to us as a stray, so we do not know how he feels about cats, but he spent a few days with kids, and he adores them! He has loved every adult he's met, and played very nicely with another dog here at the shelter. He is hoping to find a home with another dog – he doesn't like to be home alone, so a dog companion could help with that. He is a big, strong boy, and would like a human compan-ion who is able to take him on walks, hikes, and probably swims too! He appears to be house-trained, and has a few tricks up his sleeve like sit, down, and roll over.