Froggy 100.9's Country Critter of the Week, helping you find the perfect addition to your family!
Every Monday at 8:45 we'll spotlight a pet that needs a forever home. If you end up adopting the critter of the week, the folks at One Stop Country Pet Supply, on the Barre-Montpelier Road, will set you up with your first month's worth of pet food! One Stop Country Pet Supply is the place where pets come first!
Listen every week to Kim Ashley in the morning for the latest pet up for adoption.
To see all adoptable animals at CVHS click HERE
---
PET OF THE WEEK
GARFIELD
~3 YEARS OLD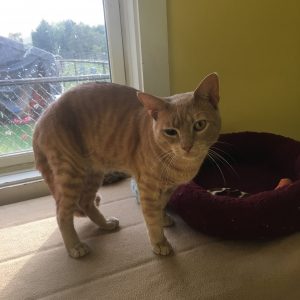 Garfield has had quite the life in his 3 years! He has been an indoor/outdoor feline, who as experience living with other felines and humans of all ages. Garfield did not have necessary vet care in the past, resulting in some vision loss and pupil dilation due to previous damage to his optic nerves. He may have sustained some trauma, or had a bout of optic neuritis (inflammation of nerves) which damaged his nerves irreparably. There is no cure for this condition once the nerves have degenerated.